Reasons for Choosing Herringbone Flooring 
admin
It is easy to become overwhelmed with the multiple options available for home or office flooring. In both settings, you would most likely wish to make a lasting impression, but you also want to be sure that your floors are compatible with your décor and are durable.
One popular flooring choice meets these criteria. Herringbone flooring lends itself to both durability and attractiveness. There are several reasons that make herringbone flooring an excellent choice.
Herringbone flooring is stylish
Whatever your taste in furniture may be, the herringbone pattern will blend into your home seamlessly. Whether your décor is classic, contemporary, rustic or Scandinavian, herringbone parquet flooring will work. Herringbone flooring is made up of blocks that are perfect rectangles. The unusual asymmetrical layout is what makes the herringbone pattern so attractive. 
Herringbone works with a variety of colours 
Herringbone flooring works brilliantly with a variety of wood colours. Choose monotone colour schemes or intersperse dark and light tone colours at regular intervals to make your flooring stand out. Alternatively, you can randomly place various coloured blocks throughout the flooring to bring a bolder look to a room. Select from shades of grey, and dark red or muted browns.
Change the "size" of your room
Herringbone flooring can either enlarge a room or give it a smaller, cosier look. This may sound like a contradiction, but the length and width of flooring blocks have this effect. Parquet herringbone with wider boards laid along the horizontal length of the room, will convey an illusion of size. A light maple wood will also seem to enlarge the size of a room. Darker oak herringbone blocks contract the size of a room by casting a warm glow and a cosy feel to the room's space.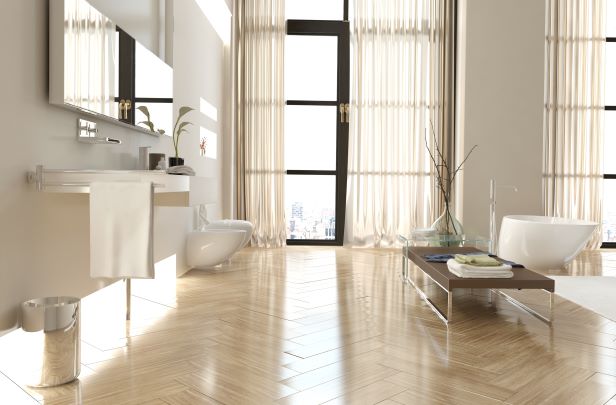 Parquet Herringbone flooring is durable
As herringbone floors are often tiled in parquet flooring, their reputation for durability has been reinforced over the years. Parquet flooring is comparable to hardwood flooring. Whereas hardwood flooring is carved out of a tree, parquet floors are made out of wood blocks that have been thinned out and glued together on top of a strong underlying layer. The floors can be installed with hardwood or engineered blocks. Parquet floors typically fall in the same price range as hardwood floors. Both are resilient and can last up to 50 years.
Herringbone works with a variety of materials
We've discussed the flexibility of herringbone flooring in terms of its compatibility with all types of décor. We have seen how the variety of available wood colours can make your flooring layout uniquely yours. Now, what about materials? Parquet, solid wood, and engineered wood are perfect materials for herringbone. However, there are other options. Laminated flooring, for example, is easy to clean, is non-allergenic and looks as stylish as wood. Vinyl, ceramics and even porcelain tiles can also be used to create herringbone floors. These materials allow you to install herringbone flooring in your bathroom, laundry room and kitchen.
The timelessness of herringbone flooring
One of the most important reasons for choosing herringbone flooring is its timelessness. The fact that herringbone flooring has been steadfastly making its appearance for a number of centuries now is proof enough of its allure and its resilience. Parquet flooring with small blocks of wood laid out in the herringbone pattern was introduced in the 16th century. Its popularity rose steadily throughout Europe, England and eventually the Americas. Wood flooring temporarily lost its favoured position with the introduction of carpeting between the two World Wars. Herringbone patterned flooring then made a comeback during the 1980s and has not looked back since.
Author Bio: This article was written by Martin O'Callaghan of Wood Flooring Ireland. Martin is a leading supplier of wooden floors in the Irish and European market.