 John Wright Building Consultant
Description :
John Wright, based in West Sussex, offers a complete design & drawing service.
Contact Name:
Mr John Wright
Address:
12 Seamill Park Crescent, Worthing, West Sussex, BN11 2PN
Phone Number:
01903 205572
Description
Over 30 Years Experience. Plans drawn for all types of building work including extensions, loft conversions, etc. Competitive prices & a free initial consultation.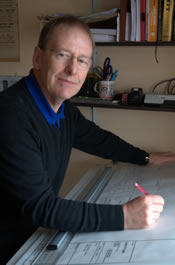 Plans prepared for planning applications & building regulations consent including all necessary structural calculations. Strong commitment to quality, customer care & value for money. WORTHING BOROUGH COUNCIL DESIGN AWARD WINNER 2005.
John will quickly bring any project to life and once the plans have been drawn up, we are then able to provide a final quote to complete the job.