The Customs Clearance Startup Taking the Friction out of Brexit
admin
The UK's borders are not equipped – both in terms of staff and technology- to handle the increased workload that Brexit will bring about. Trade bodies representing the UK logistics sector are becoming increasingly firm in their warnings, citing potential materials shortages as a consequence. The impact this will have on the construction industry must not be underestimated.
This is why KlearNow, the customs clearance tech startup, has set its sights on post-Brexit UK as it continues its mission to bring border processes into the digital age.
With an impressive track record making customs clearance easier, faster and cheaper in the United States and now with $16m in series A funding and backing from a number of Silicon Valley's best known early stage investors, the firm is ideally placed to smooth away the inevitable friction that the UK faces once it is no longer an EU member.
Sam Tyagi, founder and CEO of KlearNow and American Red Cross board member, believes that without customs process improvements, Brexit means businesses and their customers will be penalised by slower customs clearance and higher prices as overworked border staff prioritise larger importers.
This is Tyagi's company is on a mission to ensure Brexit doesn't result in chaos for industries like construction, who rely on robust supply chain processes.
Says Tyagi:
"It's abundantly obvious that as of right now, there simply aren't enough staff employed at UK borders to handle the increase in workload brought about by Brexit."
"UK borders are short-handed to the tune of about 50,000 staff and there will be an anticipated five-fold increase in customs entries with Brexit leading to as many 200 million extra customs entries."
"Our fear is that this will quickly lead to a two-tier system with priority given to larger importers who spend more on landing their goods at the expense of smaller business and their customers."
"Without the rapid implementation of technology to make customs clearance easier, faster and cheaper, this trend will continue and UK consumers will suffer as a result."
Research conducted by KlearNow revealed that 44% of construction workers are expecting their jobs to get harder as a result of Brexit. The same study also found that 45% of those working on the transport and travel frontline believe that the UK's customs infrastructure will struggle with the increased import and export paperwork, a worry shared by a third (33%) of the population as a whole.
Without the rapid adoption of suitable customs technologies, the UK's essential supply chains risk grinding to a halt.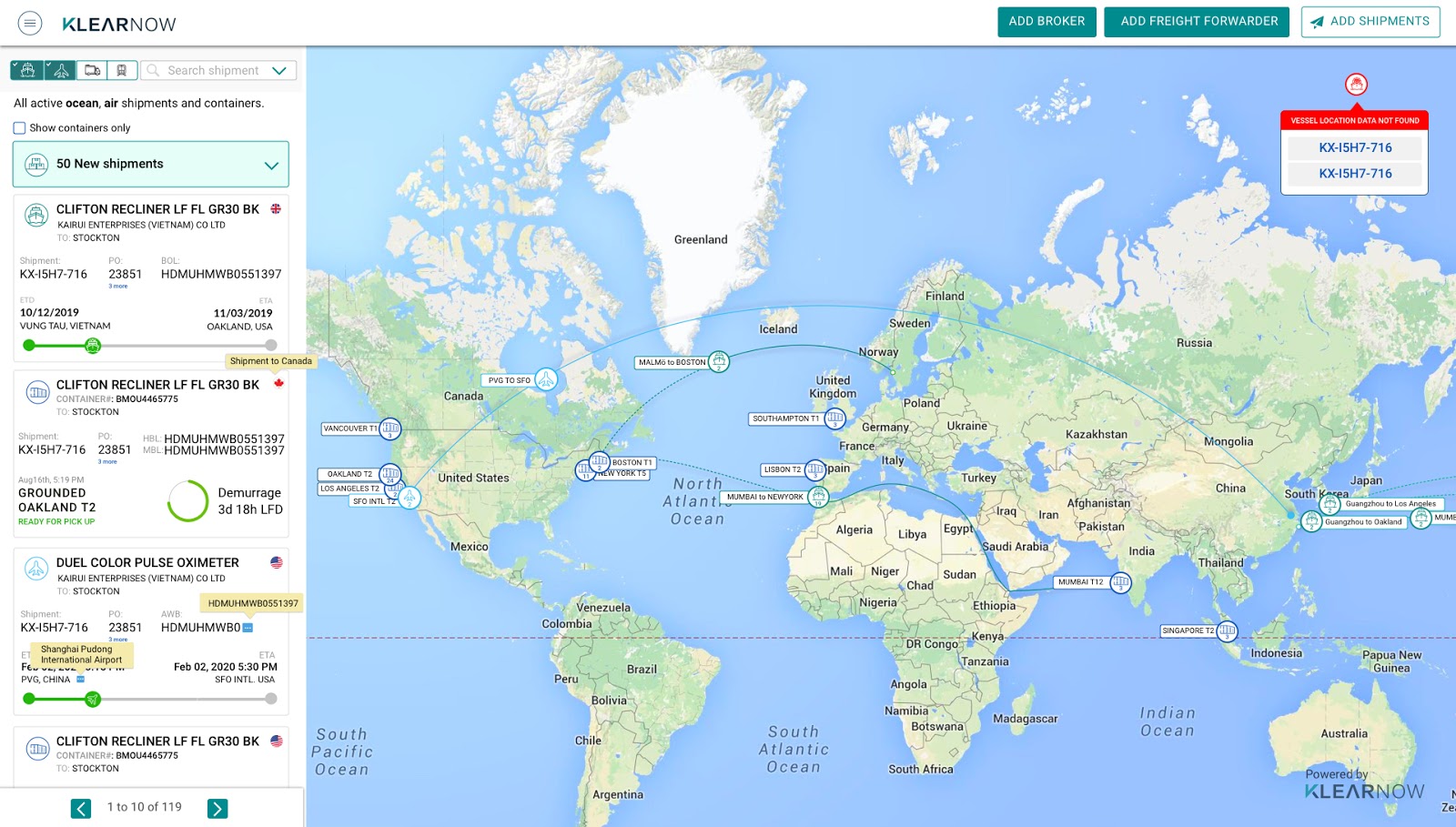 KlearNow provides end-to-end visibility for all stages of the customs clearance process.
"Customs clearance is so often the bottleneck in international supply chains. It's a critical function but it has failed to keep apace with technological innovation," explains Tyagi.
"An alarming percentage of customs entries are still processed with manual data entry staff. As a result, customs clearance is already slow, opaque and prone to error. It's only going to get worse.
"Without digitization and automation – even if the extra staff are trained and recruited by January – the extra burden and stress will hit those on the frontline the hardest."
Current customs processes are error prone, slow and most crucially, opaque; it's impossible to know the exact status of a shipment at any given time. KlearNow is a plug and play solution for businesses that need complete and comprehensive visibility at every stage of the import process.
For resource-limited firms who lack the time and capability for integrating new software solutions, KlearNow's platform represents an elegant solution to a problem that is only going to get worse if left unchecked.